This is a luxury resort that has dramatic grounds on the edge of the South Pacific. Come here for a relaxing vacation that's put you in the midst of one of Costa Rica's prettiest landscapes.
Featured in:
Luxury, Honeymoon, Best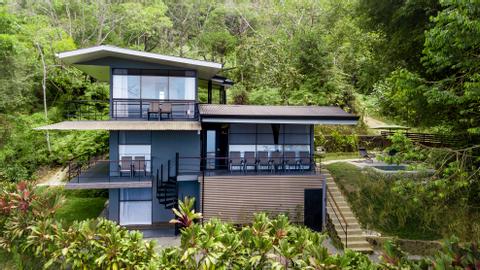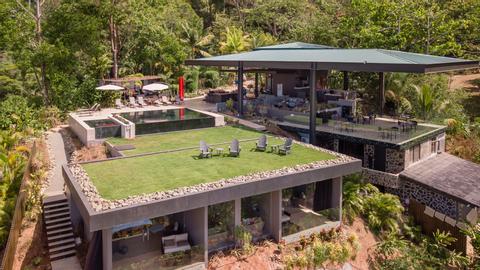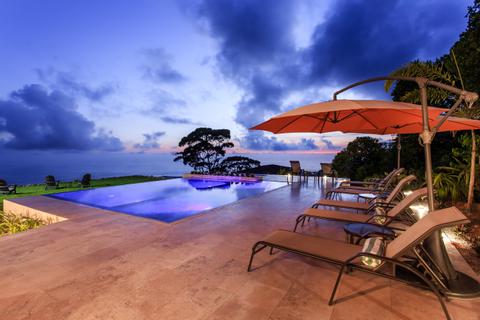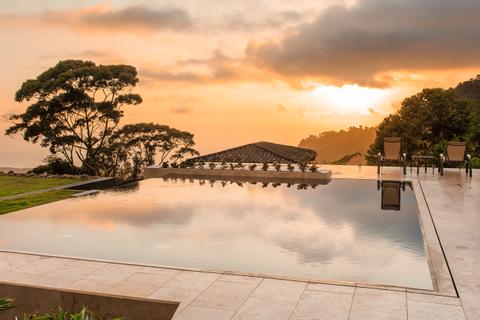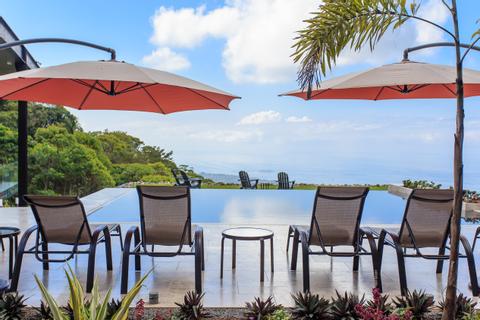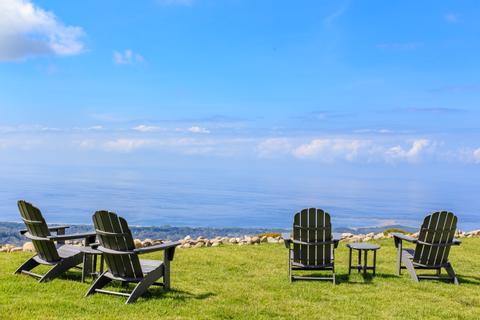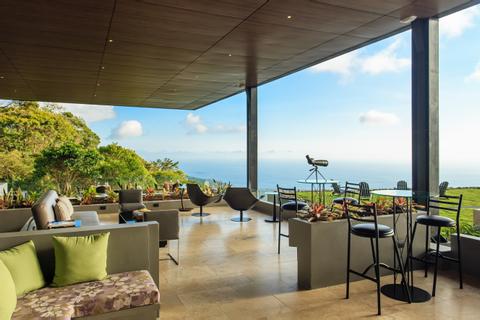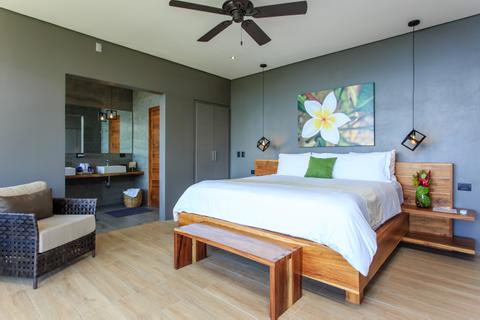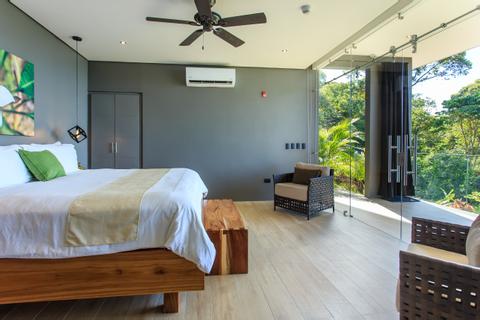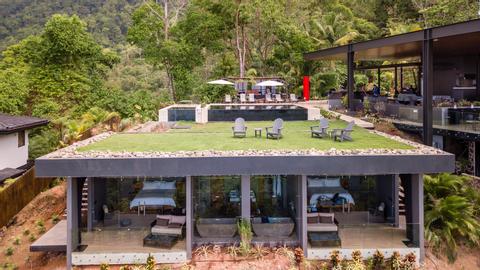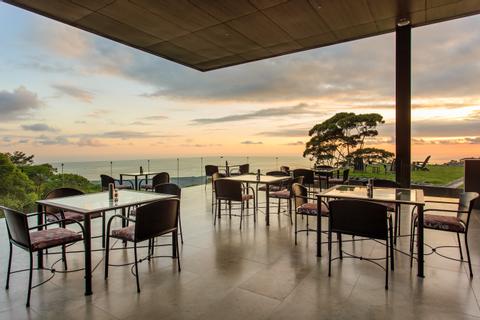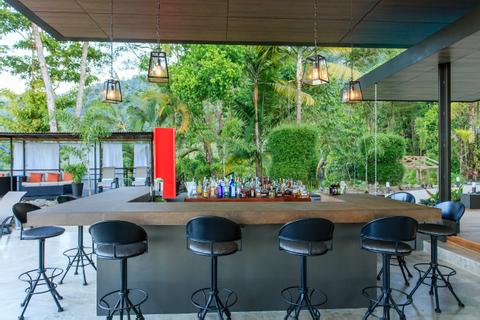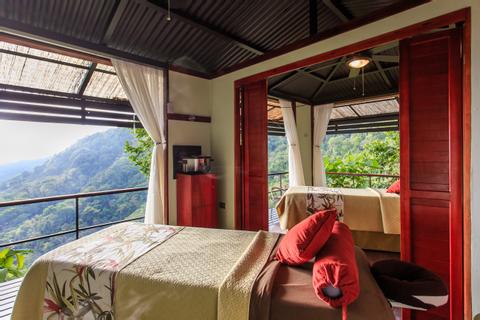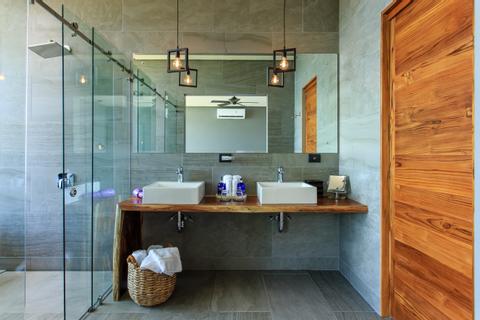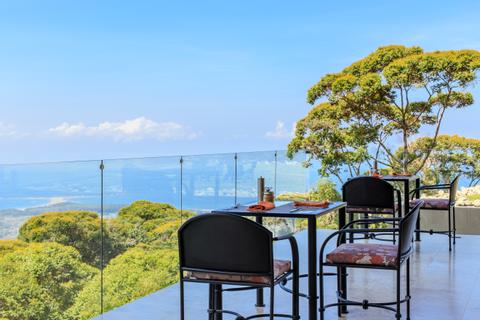 2:00 p.m. check in
12:00 p.m. check out
No children allowed
Free Breakfast
Wireless Internet
Restaurant in Hotel
Swimming Pool
Spa Services
Attractions & Sites
Rancho Pacifico overlooks Marino Ballena National Park, which has a rocky formation jutting out from the shoreline shaped that's shaped like a whale's tail. Coincidentally, this is one of the best places to go whale watching in Costa Rica—humpback whales appear in the area from summer to fall, and then again from approximately Christmas to Easter. Visitors also come to this park for adventures like snorkeling and ocean kayaking.
The grounds have two swimming pools and an infinity jacuzzi that overlooks the Pacific Ocean. There are covered patios on the grounds that provide serene spaces for yoga and meditation. The spa puts you in the midst of a rainforest-covered mountain, and your self-care routine can continue at the resort's fitness center. Visit the spa to choose from a full menu of massages, manicures, pedicures, and facials will help you feel your best.
Chefs at the Rancho Pacifico restaurant have access to fresh fish and local produce. Meals here offer upscale takes on Costa Rican and international classics. If you're feeling a little peckish before dinner, the bar serves appetizers. In the morning, you can help yourself to the gourmet included breakfast.
Accommodations come in the form of suites, treehouses, and villas. All of the units have ocean views. These accommodations come with twice-daily housekeeping. Mini fridges and coffee makers round out the hominess of the space. You can access the Wi-Fi from any of the rooms and throughout the grounds. Store your valuables in the safety deposit box.
*Suites have cutting edge design, including deep stone soaking tubs and glass walls that let in incredible views and floods of natural light. The suites at Rancho Pacifico are fully air conditioned, while the villas and treehouses are naturally cooled with open-air design, mountain breezes and abundant ceiling fans.
*Villas have private plunge pools as well as kitchens and living areas. The one-bedroom Villa Romantica has an air-conditioned bedroom.
*Treehouses are situated in the midst of the jungle and have their own private outdoor Jacuzzis.
More Property Amenities
Private Parking
Laundry Service
Safe Deposit Box
Air Conditioning
Hot Water
Ocean View
Accommodations
Hot Water
Jacuzzi
Mini Refrigerator
Safe Deposit Box
Wireless Internet
Living Room
Deck
Mono Congo Treehouse
Sleeps 2
Air Conditioning
Hot Water
Jacuzzi
Mini Refrigerator
Safe Deposit Box
Wireless Internet
Living Room
Deck
Two Bedroom Tropical Villa
Sleeps 4
Fan
Hot Water
Safe Deposit Box
Wireless Internet
Living Room
Deck
One Bedroom Romantica Villa
Sleeps 2
Air Conditioning
Fan
Hot Water
Safe Deposit Box
Wireless Internet
Living Room
Deck
Air Conditioning
Fan
Hot Water
Mini Refrigerator
Safe Deposit Box
Wireless Internet
Three Bedroom Whales Tail Villa
Sleeps 6
Hot Water
Safe Deposit Box
Wireless Internet
Living Room
Deck
Air Conditioning
Fan
Hot Water
Mini Refrigerator
Safe Deposit Box
Wireless Internet
Similar Hotels