The Arenal Observatory Lodge is situated just outside of La Fortuna, at the foot of the Arenal Volcano. Drawing excited tourists from around the world, this majestic volcano, surrounded on all sides by tropical rainforest, puts on an outstanding view. La Fortuna is a quaint, yet bustling town offering an assortment of restaurants, shops and attractions.
Featured in:
Eco Lodges, Sustainable, Great for Families, Isolated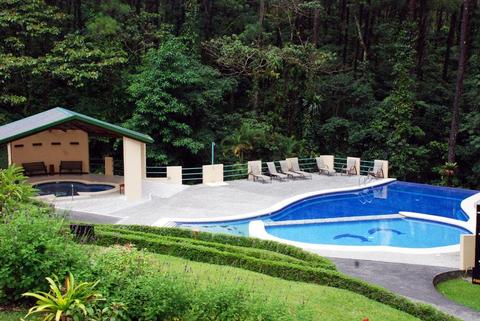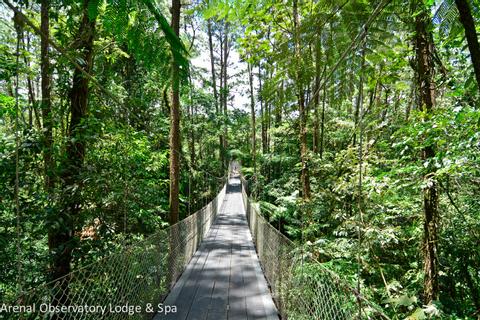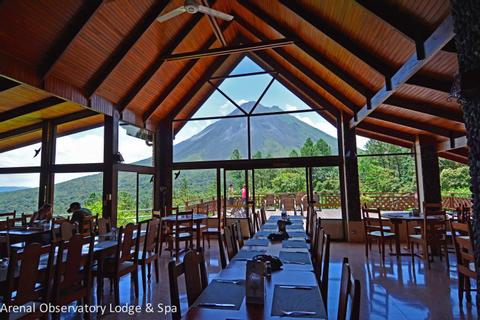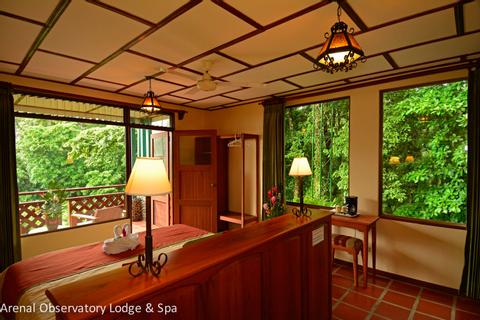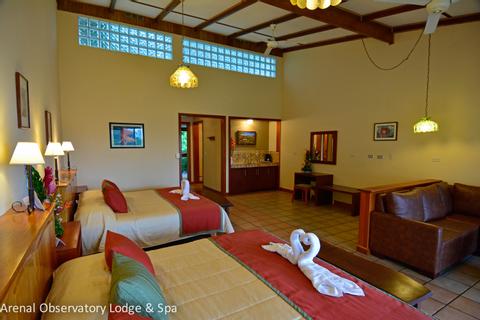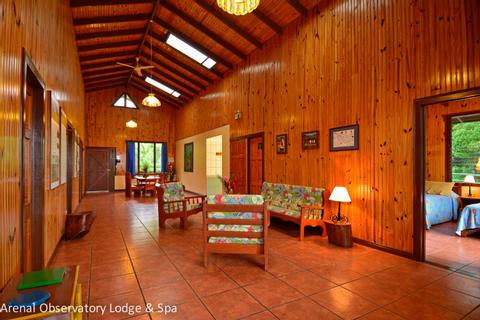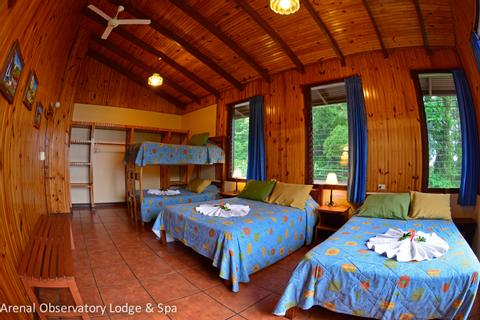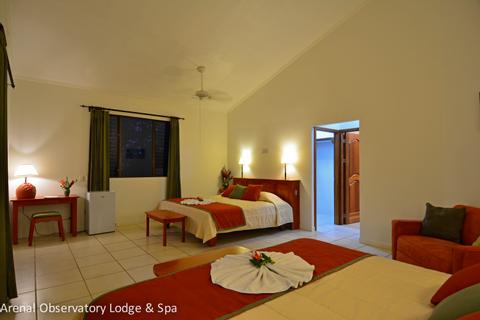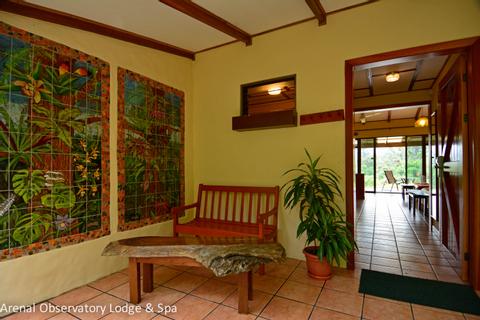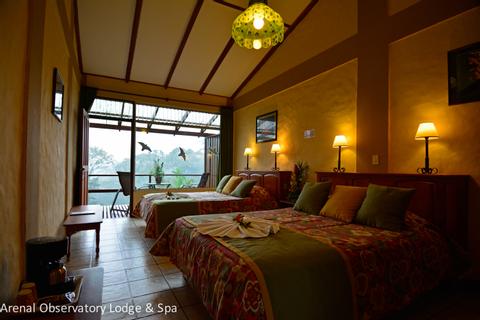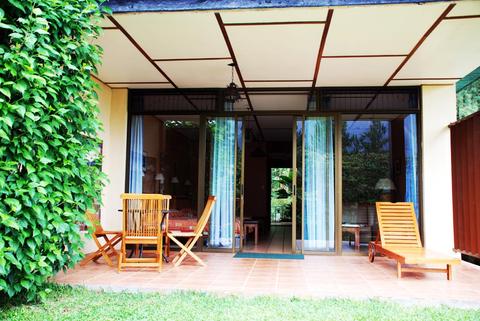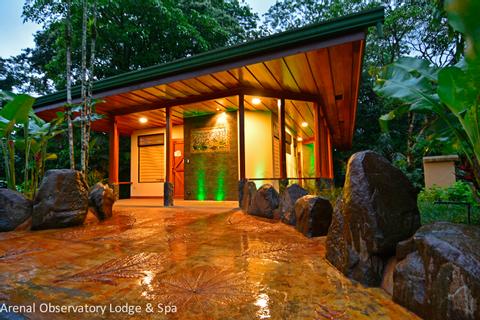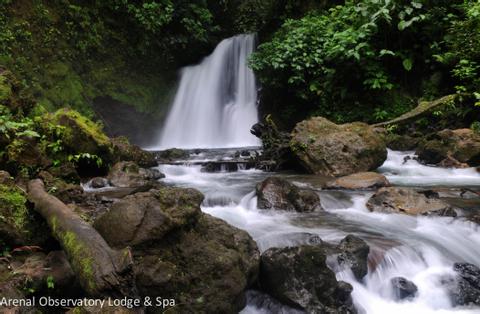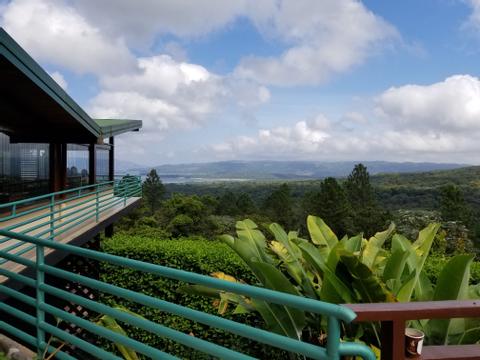 3:00 p.m. check in
12:00 p.m. check out
Restaurant in Hotel
Spa Services
Swimming Pool
Wireless Internet
Free Breakfast
– Some rooms feature –
Wheelchair Accesibility
For an unforgettable evening, enjoy the peaceful "El Silencio' Nature Hike through secondary forest. The jungle sound and aromas as well as volcanic views are unforgettable. You can also take in the breathtaking view of the volcano on a kayaking trip on Lake Arenal or a fishing excursion. For a short day-trip, visit the Venado Caves beautiful stalactite and stalagmite formations.
Set high on a ridge facing the spectacular volcano, the Arenal Observatory Lodge offers the adventurous traveler a unique, once-in-a-lifetime experience. The lodge sits in a private nature reserve with well marked trails perfect for hiking, biking and horseback riding through the rain forest. An infinity swimming pool, tiled in cobalt blue, melts into the rain forest beyond. A sunken bubbling Jacuzzi provides soothing relaxation beneath a glass gazebo framing the volcano's peak against a starry sky. There is also a restaurant for your dining pleasure.
The lodge offers standard, Smithsonian and Junior Suites, all of which boast excellent volcano views. The walls of the Junior Suites are decorated with original ceramic paintings done by a local artist. La Casona, with a large terrace, five rooms with queen or bunk beds and two large shared bathrooms, is an excellent option for families or large groups. The White Hawk Villa is set away from the other buildings and is accessed by a short, scenic hike. The villa is also equipped with a dining room and a full kitchen.
Note: The reception of the Hotel closes at 9:00PM, it is impossible to do the check in after that time. If somebody arrives later than that they must look for another hotel to spend the night.
More Property Amenities
Bar
Coffee Service
Currency Exchange
Game Room
Gardens
Hiking Trails
Hot Water
Internet Access
Jacuzzi
Jungle View
Kids Pool
Laundry Service
Mini Refrigerator
Private Parking
Safe Deposit Box
Telephone
Volcano View
Accommodations
Balcony
Cable TV
Fan
Hot Water
Safe Deposit Box
Telephone
Living Room
Fan
Hot Water
Safe Deposit Box
Porch
Fan
Hot Water
Safe Deposit Box
Wheelchair Accessible
Porch
Fan
Hot Water
Safe Deposit Box
Fan
Hot Water
Mini Refrigerator
Safe Deposit Box
Porch
Balcony
Cable TV
Fan
Hot Water
Safe Deposit Box
Living Room
Dining Room
Patio
Porch
Fireplace
Feedback from Travelers
Fabulous hotel at the foothills of Arenal volcano. Unfortunately we never saw it due to low cloud and almost constant rain. We were lucky enough to have the best room in the hotel with double aspect windows- over the lake and volcano. The staff each day made a beautiful arrangement with the towels for our silver wedding anniversary. Lovely buffet breakfast. Ate in the restaurant once and enjoyed happy hour. All staff lovely and helpful. Free morning guided walk through the grounds. Lots of self guided trails too. Would recommend this hotel 100%
Staff on site were all very helpful and professional. Facilities were fantastic!
This was amazing, we loved the hikes the staff and the grounds. Would definitely return and definitely recommend everybody go there.
Similar Hotels