The elegant El Establo Hotel is situated in the majestic mountain community of Monteverde, in the Tilaran Mountain Range. A meandering dirt road leads you up onto the continental divide where you'll come upon the stunning Monteverde Cloud Forest Reserve, world renowned for its biodiversity and rare bird species. This is a perfect vacation spot for those who love to be outdoors for taking in the sights and sounds of nature.
Featured in:
Honeymoon, Hilltop, Great for Families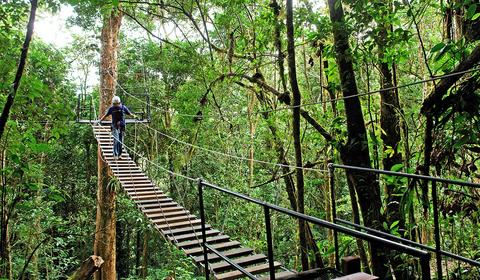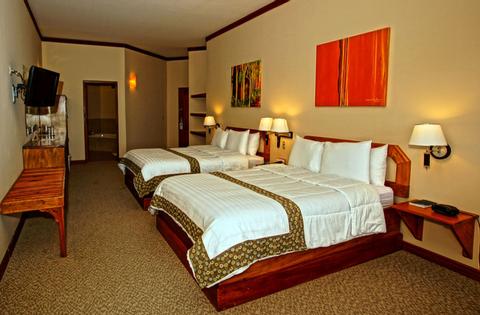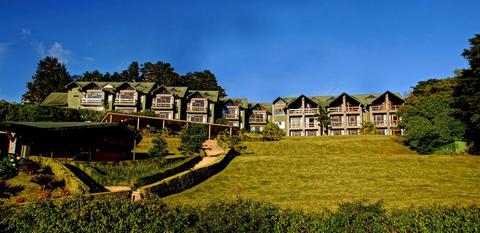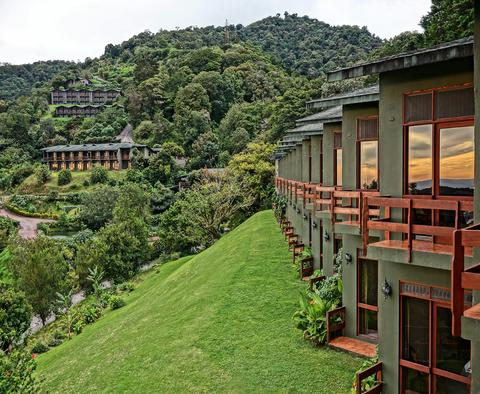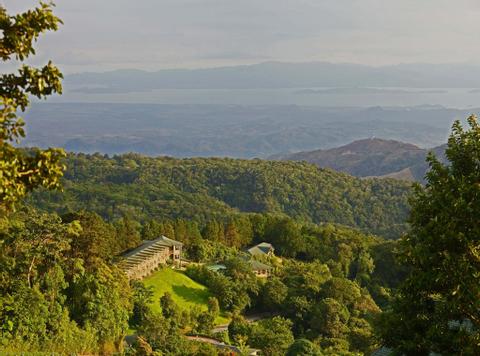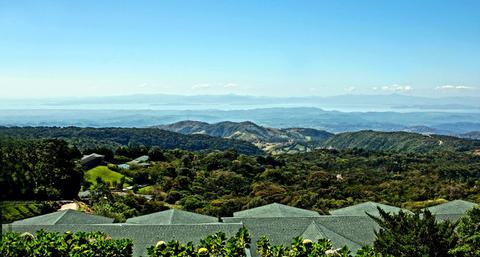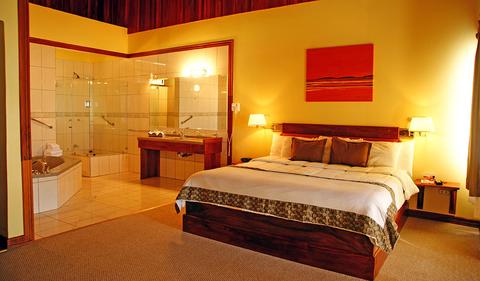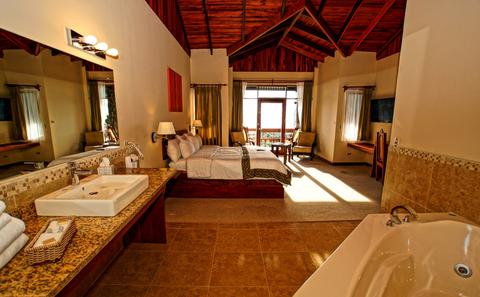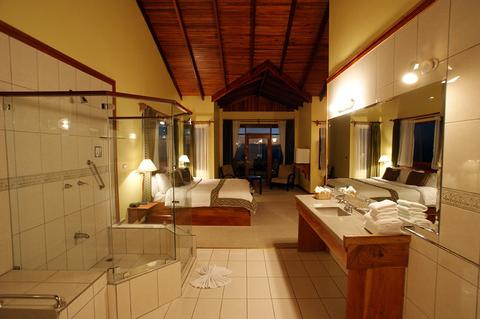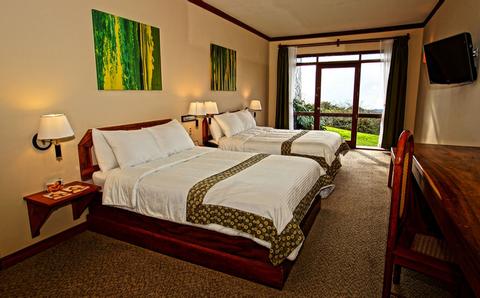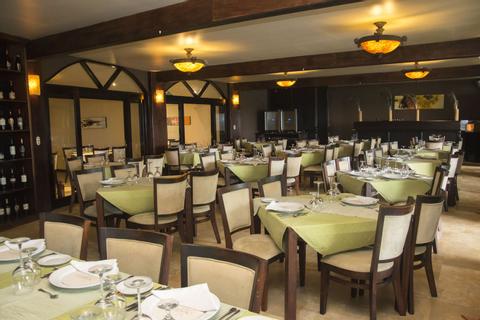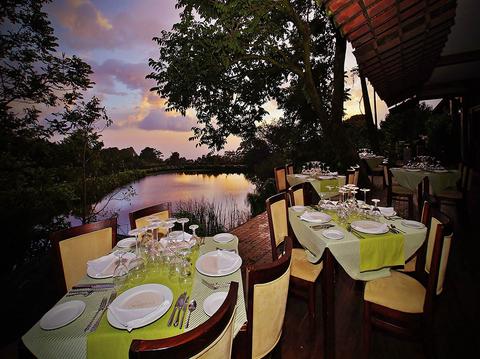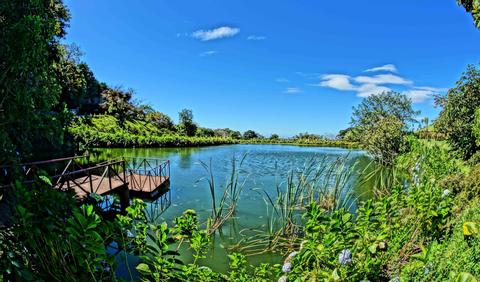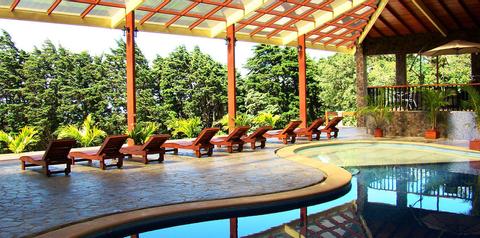 3:00 p.m. check in
12:00 p.m. check out
Restaurant in Hotel
Spa Services
Swimming Pool
Free Breakfast
– Some rooms feature –
Wireless Internet
While visiting, be sure to take advantage of the many activities in the area. The canopy tour and suspension bridges will give you a bird's eye view of the forest below and the ability to spot wildlife in the tree tops. The Monteverde Cheese Factory offer daily tours as do the coffee farms, where you'll learn all about the coffee process and what makes for some of the best coffee in the world. Off-road ATV, horseback riding and bird watching tours are other unique ways in which to see the area.
The El Establo Hotel is conveniently perched on a hillside, just 7 km from the Santa Elena Rain Forest and 4 km from the Monteverde Cloud Forest. The hotel is set on a private 150 acre farm, adjacent to the Monteverde Reserve. Guests are welcome to pamper themselves at the hotels Green Leaf Spa. At the restaurant, guests will experience exquisite national and international cuisine, with a touch of unique taste and service.They can also lounge in the solar heated pool which has views of the Gulf of Nicoya. For those who love sports, there is a tennis court as well as a multifunctional field.
Guests have several accommodation choices which include Deluxe rooms, Jr. Suites, Suites and the Honeymoon Suite. All rooms come with fantastic orthopedic mattresses, large bathrooms with a shower and bathtub and a sitting area.
Deluxe rooms: come with 2 queen size beds, cable TV, hair dryer, safety deposit box, and a telephone.
Jr. Suites: have a delightful private balcony with great views of the sunset on the Gulf of Nicoya and a mini bar.
Suites: have two floors with two bedrooms with queen and king size beds along with a private balcony with views.
Honeymoon Suite: comes complete with a big private bathroom with Jacuzzi and separate shower, private balcony, hair dryer, refrigerator, and telephone.
El Establo has a strict cancellation policy for the period between December 15th and January 15th: no refund on cancellations after November 15th.
More Property Amenities
Balcony
Bar
Breakfast Available
Cable TV
Conference Rooms
Game Room
Gardens
Handicap Accessible
Hiking Trails
Hot Water
Internet Access
Jacuzzi
Laundry Service
Mini Gym
Mini Refrigerator
Private Parking
Safe Deposit Box
Telephone
Tennis Court
Accommodations
Alarm Clock
Balcony
Cable TV
Hair Dryer
Hot Water
Mini Refrigerator
Safe Deposit Box
Telephone
Alarm Clock
Cable TV
Hair Dryer
Hot Water
Jacuzzi
Mini Refrigerator
Safe Deposit Box
Telephone
Wireless Internet
Alarm Clock
Cable TV
Hair Dryer
Hot Water
Mini Refrigerator
Safe Deposit Box
Telephone
Wireless Internet
Alarm Clock
Balcony
Cable TV
Hair Dryer
Hot Water
Mini Bar
Safe Deposit Box
Telephone
Wireless Internet
Feedback from Travelers
We were skeptical about such a large facility. However, this was indeed the highlight of our trip. The rooms are very large and clean. Even though there was no air-conditioning, it was super comfortable. The restaurant was nice and the quality of food was good.
I was very impressed with this hotel. Every room has a great view and we were in unit 8. We got a great view of the sunset every evening. There was lovely birds, animals and very helpful staff. The restaurants are very good and breakfast buffet is ample and tasty. The room is quite spacious and very good bathroom. The rooms have a small veranda kind of space at the entrance that allows for luggage to be stored and so the sleeping area becomes very spacious. I spotted a Quetzal in one of the property trails ! Highly recommend this place.
Great hotel, wonderful staff. The shuttle to get to and from our room down to the reception area at first was a little bothersome. You had to leave about 5-10 extra minutes if you were on a time schedule. But when you see the views and the sunsets and the property, it is all worth it. We also were able to walk into town for dinner.
Similar Hotels