Monteverde Costa Rica
Monteverde un bosque nuboso con una selva verde muy profunda, es lo que ha hecho este punto un lugar excepcional en el eco turismo ecológico de las tierras altas de Costa Rica. Esta zona es el hogar de una cadena de volcanes, tanto activos como inactivos, hermosos parques nacionales y un clima muy diverso.
Un largo camino de tierra fuera de la carretera Panamericana, es lo que conduce al exuberante paraíso de las montañas altas de Monteverde, que está ubicado entre dos reservas primarias de bosque nuboso. El pueblo fue fundado en la década de 1950 por unas pocas familias de Quakeros (grupo religioso) que buscaban salir de los EE.UU. y dejar la guerra atrás. La ausencia militar en Costa Rica fue el principal motivo y lo que convirtió al área en el lugar ideal. Se instalaron en la zona ahora llamada Monteverde y establecieron lecherías que eventualmente con el tiempo suplieron a la fábrica de Quesos de Monteverde. Poco después de su llegada ellos establecieron el santuario de vida silvestre de Monteverde.
Una vez que llegue a la cima de la montaña lo primero que encontrará es el pueblo de Santa Elena. Aquí hay una variedad de tiendas, suvenires, alojamiento, una parada de autobús, restaurantes, cafés, supermercados, bancos y mucho más. A pesar que Monteverde no tiene un pueblo central, se compone de un camino de tierra en la mayor parte que conduce a la reserva del Bosque Nuboso Tropical. A lo largo del camino encontrara hoteles, cafés, restaurantes, galerías y excelentes vistas.
El espectacular Bosque Nuboso de Monteverde atrae a científicos, observadores de aves, y amantes de la naturaleza de todas partes del mundo. Dentro de la reserva, usted puede explorar los bosques vírgenes y la multitud de árboles como el higuerón Estrangulador que se pueden distinguir en el camino que lleva a un mirador donde se asienta la división continental. En un día claro se puede ver tanto el Caribe como las costas del Pacífico. La reserva es uno de los pocos lugares donde habita el resplandeciente Quetzal que esta en peligro de extinción, el tan solo ver esta exótica ave, realmente hace que el viaje valga la pena.
En el otro lado del pueblo encontrará la Reserva del Bosque Nuboso Santa Elena ligeramente más pequeña y a mayor altura, tiene vistas sorprendentes del Volcán Arenal. Otras actividades populares en la zona son los canopy tours (tirolesa), visitas al jardín de mariposas, los puentes colgantes, paseos a caballo, una visita a la fábrica de queso y la galería de colibríes localizados en las entradas de ambas reservas.
Very hilly so if you are walking need to be aware of that.
Monteverde was great. We are glad we saw it. The drive was beautiful. We saw lots of animals. Beautiful!
Monteverde is stunning, our favorire spot in Costa Rica!
We loved the Cloud Forest Lodge and the town. The drivers were friendly. It was easy to get a cab - anyone will call one for you if you are not downtown. If downtown, just go to the taxi corner.
Driver's knowledge of the area was very helpful given the construction related road closure. We enjoyed having Jimmy as our driver as he was very friendly, knowledgeable, and an excellent driver. We made a fun stop for a snack in order to time the road opening and he made a quick stop along the way for us to get a picture.
We misunderstood that a canopy tour means ziplining. We loved ziplining at Selvatura but people who don't like that sort of physical adventure should take note. Overall we found Monteverde to be a wonderful experience. A charming town and our accommodations at Cala Lodge were terrific. We saw more animals on the property than we did in the reserves!
If you want I escape the humidity and see the wonderful wildlife of Costa Rica Monteverde is for you. Ziplining is a must. The views are spectacular and it's affordable. The ride here will be rocky but it will be worth it.
Very pleasant & informative guide.
Monteverde was great. The people were so nice and helpful. Zip-line tour was beautiful! We were surprised to find out majority of places closed at 10pm however but we were very comfortable in our hotel room so this wasn't a problem.
Absolutely breath taking. Must see. Very majestic
Loved Monteverde! An awesome place to really get to see the cloud forest and all the life it entails - which is a lot! If you love adventure and hiking, this is your place !
Everything was fine, the guide was very nice and informative.
Just stunning. Loved the whole area
Review of Monteverde Much of the road up to Monteverde is winding and unpaved. Due to a puncture earlier in the day, it was already dark when we commenced our drive up but. thanks to the GPS we rented when we hired our car, we easily found our hotel, Tropico Monteverde, and enjoyed a good meal there despite the late hour. The town is a maze of roads centred on a 'triangle' of roads that acts as the hub and from where most of the tour organisers operate. For our first day we had organised an early morning guided tour of the Curi Cancha Private Reserve. Our guide, Victor, was very knowledgable and clearly enjoys his job. Although we failed to see a Quetzal, we are with him for much longer than 3 hours and then he takes us back to our hotel. At 13:35 we are picked up for our Sky trek zip lining trip. We arrive, get our instructions, get kitted up and, after a dummy run, go up the mountain in a cable car. We see the views, including Lake Arenal, and then have a fabulous 7 zip line thrill down the hill again. For two of them, you go down in pairs. It's great fun. On our second day, we decide to visit the Monteverde Reserve. We take a private tour with Jorje (George). Soon after we start we find a dead tree with 3 holes in it close to the trail. One of the holes has a quetzal nest with the male sitting on the eggs. We watch for a while and the female comes along to change places with him. What a photo opportunity. We see a toucan emerge from a hole in a tree where her nest is, a coati and lots of other birds. We go back to our original spot to wait for the male quetzal to return and after almost three hours we are treated to another photo opportunity.
only issue, if driving , windy, unpaved roads, in side of mountain. beautiful, but hard to drive
Excellent location. Very friendly people (locals, hotel staff and pickup drop people). Would highly recommend. Only complaint is the roads in the whole area can be improved. Access to Monteverde from Lake Arenal and on (Hwy 606 ) and also to Santa Elena and Selvetura preserve should be improved.
Did not see many animals despite personal nature guide. People were very friendly. Easy transportation options
The trip from hotel to Lake Arenal, the Ferry hop across the Lake and the transport to the hotel were all well coordinated. The drivers and staff were all very helpful, friendly and courteous. They made excellent suggestions about local eating places and things to do.
Monteverde is a name of a cloud forest and of a small town on its outskirts. There is also another small town located close to it called Santa Elena. There are hotels scattered in towns and between towns. We felt safe walking, even though we didn't speak Spanish. Most locals have at least some English. Monteverde the cloud forest is very interesting, make sure to get a guide as you will see many more creatures and understand a lot more. We spent 3 days here and did a walking tour, ziplining, and coffee plantation tour - all excellent. Highly recommend getting a driver here. Most roads are narrow and unpaved in this mountainous region.
Our driver from the airport was so friendly and helpful. The Monteverde Country Lodge was welcoming and within walking distance of shops and restaurants. The guide for our cloud forest tour was extremely knowledgeable and very nice.Plus we say so much wildlife!! We couldn't have had a better start to our trip.
Beautiful place and people! Loved seeing the Cloud forest and fascinating ecology! Great guides and experience!
Excellent trip on the sky tram and zip lines. Hotel Tropico was outstanding. Lovely room, shower, view, the people who worked here were lovely. Really enjoyed the Tropico.
We loved Monteverde. The food was excellent everywhere we went. Everything was in walking distance of our lovely hotel. And the views of the countryside were amazing. So was the rainforest. We plan to come back!
We loved our guide Kevin. He was so knowledgeable & he found so many animals that I know we would have never found. Right at the end of our hike through Monteverde, we saw a Quetzal bird & he said that doesn't happen very often. Our 12 & 14 year old boys loved every moment of the tour.
It was raining in Moteverde when we got there but it's understandable because it's a freaking rain forest. We enjoy Monteverde even though it's raining.
Monteverde is a wonderful spot to spend a few days. We only spent 1 and wished we spent another 1 at least. The rugged terrain is fun to view and hike (for awhile). The town is small but very friendly. The nature viewing here is unique because you see creatures that reside fairly high in altitude, compared to other locations.
Could have spent more time here! Loved every minute :)
Loved it!
Monteverde is a mountainous region with lots of activities for the tourists as well as nature lovers. We spent 2 days in Monteverde and still felt we could have stayed there little longer. People of Monteverde are very simple and they indeed practice what they say, "Pura Vida." If I would go back to Costa Rica again then this is one place I will visit next again.
Stayed at the Montana hotel & the front desk was very helpful in making a change to our reservations. While on Monteverde we went horseback riding at sunset (amazing) & the next day zip lining. We added the long walking tour of the hanging bridges which was beautiful. All are true highlights of our vacation.
on time pick up, nice boat ride across the lake and the driver was waiting for us on the other side
It's a cloud forest, so expect it to be cloudy and rainy. This place is a paradise for bird watchers and people that love interesting flora and fana. But if you are looking for a relaxing time on the beach with sand and sun, you don't want to go here. For those looking for long hikes in a unique forest, this is the place for you! Provided you don't mind mist and rain.
Lovely place. The cloud forest is really beautiful to see.
LOVED THIS! The guides were funny, helpful, & really great people. The ziplines were super fun, the Hummingbird garden was awesome, the butterfly tour was really informative & the swinging bridges were beautiful. Understand the the hummingbird garden is just several feeders like you have at home. What made it awesome was you can stand by a feeder & see more hummingbirds than you have ever seen before. & if you stand really still, they will land on you. LOVED it! Also, the roads to get to Monteverde are everything you have been warned about. They are terrible. But you do see beautiful country & it is an adventure! Monteverde is worth the bad roads. We would definitely come back if we are ever in Costa Rica again.
Quiet place with good food and great views.
Beautify place, relaxing and quiet.
The tour guide was perfect, informative, very good. The zip line was great and the hotel bungalow (Tropico) was absolutely perfect.
Thank you for the hospitality and professionalism of your drivers Minor and Freddy.
LOVE The Skytrek! Very safe! Beautiful! Lots of fun!
It's an amazing place to visit and all the tours we booked made it that much more special... all of our tour guides were very friendly and knowledgeable, it is chilly so bring a sweater... I can't wait to plan my next trip here
Monteverde Costa Rica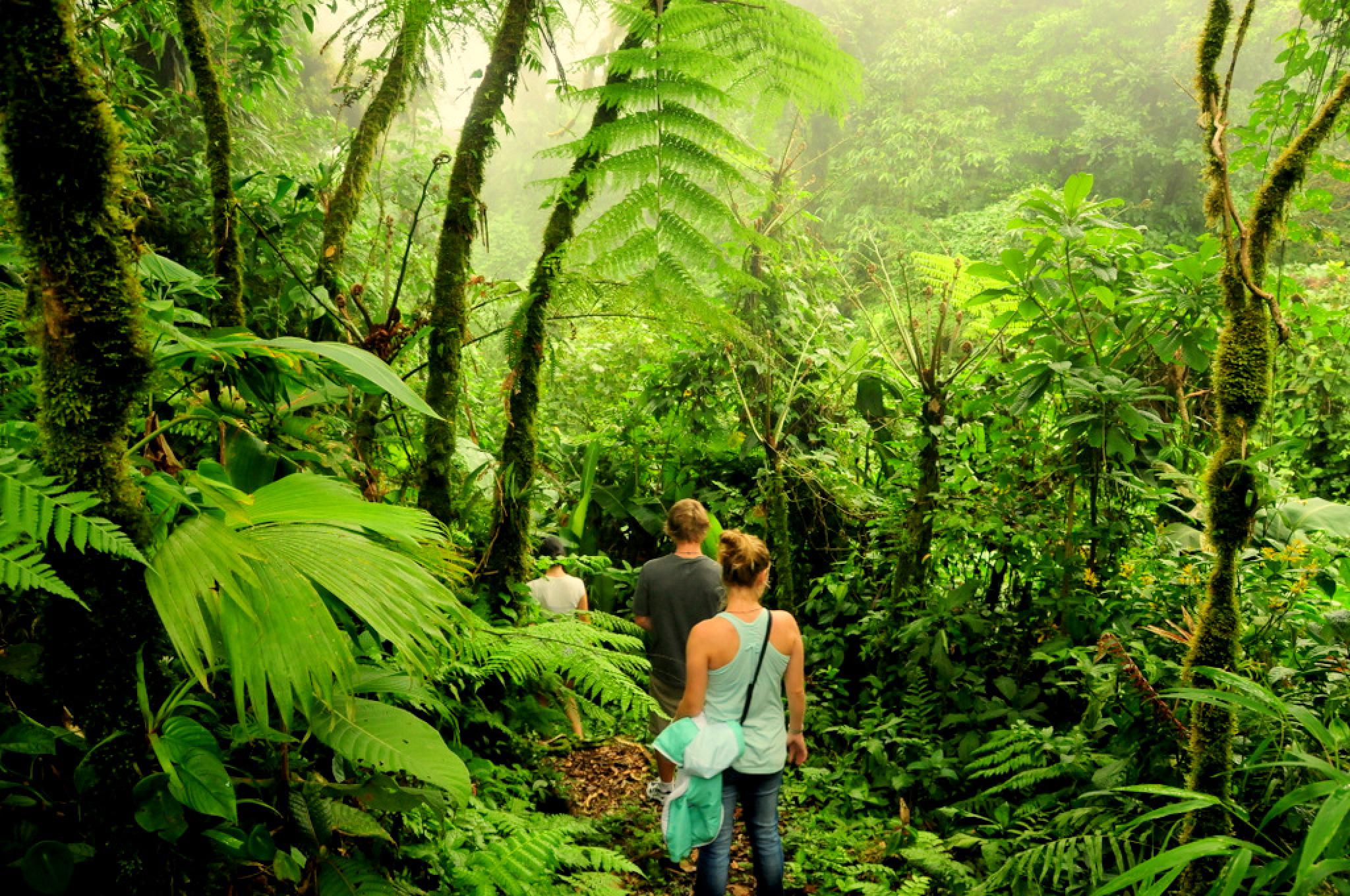 15859
Anywhere.com