Outdoor lovers rejoice! Guatemala's nature destinations will make you feel like you're seeing the great outdoors for the first time, and in many ways, you will be. The gentle charm of Lake Petén Itzá will be a totally different experience from navigating the jungles of Tikal. Guatemala's nature sites are largely a result of the nation's geographic location — the country is a land bridge between North and South America, adjoins both the Pacific Ocean and Caribbean Sea, and has over five mountain ranges running through its borders. All of this makes for incredibly diverse geographic and climatic conditions, and one amazing Guatemalan vacation.
The following destinations are set in beautiful areas that will allow you to get outside and explore. Spend your time exploring Guatemala's beaches, hiking through forests, summiting volcanoes, or even soaking in hot springs. If you prefer your nature excursions to be a little less rugged, then you'll enjoy having opportunities to paddle your kayak across a lake or down a jungle-clad river, or perhaps you'd prefer to do a little birding outside of a thriving coffee farm.
Guatemala's nature tours are just like the country — diverse. Whatever adventure you choose, be sure to keep your binoculars and camera handy, because you'll want to remember the incomparable beauty of Guatemala's great outdoors.
#1:

 Lake Atitlan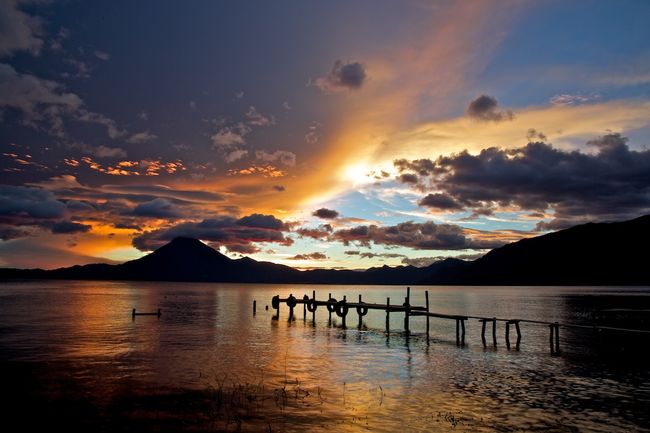 Lake Atitlan, Solola, Guatemala →
Lake Atitlán is a top nature attraction in Guatemala. Around its perimeter, you'll see a trio of volcanoes standing sentry, adding an ancient majesty to the landscape. You can find lots of tours that offer creative options for delving deeper into the surroundings. If you want to see the lake, you can tour the perimeter on a horseback or biking tour.
Climb San Pedro Volcano on a 4 to 5 hour hike to the summit that takes you through the plantations that sprout along the slopes. Visitors can also explore the summit of Atitlán Volcano, leaving from the village of San Lucas Toliman. Besides these summits, there are lots of places you can go for a dramatic view of the lake, including from the Mario Mendez Montenegro viewpoint. Descending from this point, you'll get to see the pine, avocado, loquat, and peach trees of the lush Guatemalan highlands.
Outside of the Mayan village of Panajachel, you can see the Atilán Reserve — on a nature walk, you'll see some of the 250 species of bird that live here as well as a number of monkeys. This is also an area where you can observe coffee plants.
Lake Atitlán has a gorgeous selection of accommodations that offer stunning views of the lake. Many properties also have gardens and landscaping that serve to create a beautiful place to admire local plants.