Culebra Bay, Costa Rica
The large arc-shaped Culebra Bay (Bahia Culebra) epitomizes the world-class beaches of northwestern Guanacaste. In the back drop of these pristine aquamarine waters is the majestic Rincon de la Vieja Volcano, just beyond the scrub covered highlands that rises from the warm Pacific.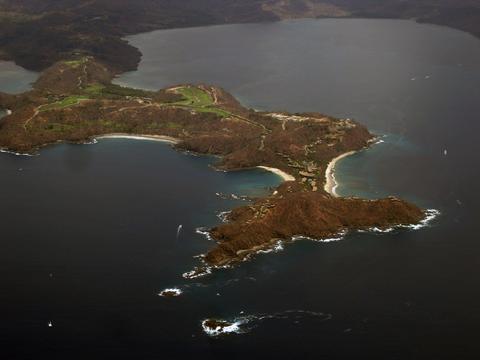 Located in the north of the Gulf of Papagayo, Culebra Bay caters mostly to visitors seeking luxury accommodations, although a number of mid-range options are also available.
Culebra Bay is the setting of the largest development project ever attempted in Central America. The Papagayo Project, named after the large gulf in to which the bay opens, began in 1993 after the approval from the Rafael Calderón administration. Government officials turned a blind eye to many violations of Costa Rica's stringent environmental laws by developers when earmarking sites for construction. In the past, construction has suffered some hiccups along the way as funds allocated to the project dried up. However, construction has resumed, this time with more regard for the environment. The project aims to make Costa Rica a big player in resort tourism. Already referred to as a mini-Cancún, the greater Gulf of Papagayo is shaping up to be a premier destination for tourists around the world, seeking the best in accommodations.
The beaches are exquisite with white-sand and blue-green water that make Culebra Bay a great destination for visitors. The water is warm and placid, therefore ideal for swimming. The area is also a fantastic spot for snorkeling, scuba diving, and sport fishing excursions.
A number of national parks lie within close proximity to Culebra Bay, including the famous Santa Rosa National Park (Parque Nacional Santa Rosa), Rincón de la Vieja National Park (Parque Nacional Rincón de la Vieja) and Palo Verde National Park (Parque Nacional Palo Verde). Take a day trip to any of these destinations for the opportunity to appreciate Costa Rica's vast inland beauty.
The nearby Daniel Oduber Quiros International Airport in Liberia facilitates seamless travel to the Guanacaste beaches for those traveling from abroad. Driving from San Jose takes about five hours by car and buses from either Liberia or San José run daily.