San Jose
"Chepe," as the city is referred to by locals, is the capital city of Costa Rica and a hub for modern Costa Rican culture. It's also where most visitors depart for tours of central Costa Rica's volcanoes and coffee plantations. Before you leave, take a fun-filled tour of the city's monuments and parks, and maybe sample the burgeoning craft beer scene.
San José transitions from a commercial block of department stores, chic cafés, and fast-food establishments to the haphazard residential areas characteristic of Latin America. Because it is such a large city, tourism services are the most extensive in the country. While the city is not a top destination for visitors, San José has a few attractions for visitors to consider, as well as numerous restaurants, museums, outdoor markets, and parks.
Another attractive characteristic of San José is its temperate weather, which can be quite a relief, particularly during the summer months. Because of its relatively high elevation—3,839 feet (1,170 m)—the city, like the rest of the Central Valley, is always a pleasant temperature year-round, with very limited showers.
Population in San José exploded during the latter half of the twentieth century, following the Second World War. Today 309,672 people—2000 estimate—call the San José canton home and a million more live in surrounding suburbs, comprising about 40 percent of the nation's total population. Historically San José was only a small village that came to prominence because its fertile soil made for excellent farming. Two years following independence from colonial Spain (1821), the joint Republican strongholds of San José and Alajuela defeated the pro-Mexican Democrats of Heredia and Cartago—the previous capital—in a brief civil war that established San José as the capital of the burgeoning nation.
The introduction of coffee to the Central Valley in the early nineteenth century fueled San José's prosperity as the city embraced capitalism. An urban merchant class rose as the result of coffee trade, who looked to Europe as an architectural muse.
Because of its relatively late start in terms of development, San José is mostly devoid of antique colonial architecture and the typical stand-out monuments found in other Latin American cities. Rarely is a building more than 100 years old. Instead, plentiful World War II-era buildings fill the city's skyline, eliciting a feeling that San José is still in its infancy — a growing municipal center that largely retains a small town vibe.
The vast majority of visitors spend no more than a couple days here, before departing for the picturesque beaches and national parks that have defined Costa Rica as a premier tourist destination. The city's central location makes it ideal for traveling to such destinations, as well as its extensive transportation services—buses leave to just about anywhere throughout the day, and Juan Santamaría International Airport offers flights to the rest of the nation's airstrips.
Accommodations are extensive as in any big city. Reservations should be made three months in advance during the last few weeks of December as hotels space quickly fills up. Many of the city's budget hotels are just west of downtown, near Center Street (Calle Central). Home-stays are also an option for those looking to immerse themselves effortlessly into the culture.
Downtown San Jose
Most visitors flock to the city's downtown, negotiating the bustling urban gridiron, using the pedestrian-only Central Avenue (Avenida Central) for reference.
Culture Plaza (Plaza de la Cultura) provides an ideal location to begin exploring the city's urban attractions, although is not of much interest in itself. The plaza is a central meeting point for locals and foreigners alike. Ongoing street acts provide for great public entertainment, amidst the park's overall tranquility. Nearby National Theater, Gold Museum, and the Tourism Information Office (ICT) are the main reason for stopping by.
South of the plaza is the National Theater (Teatro Nacional), considered by most to be San José's most remarkable edifice. Constructed in the 1890's, the theater is a prominent center of tico culture. Support for a grand opera house was galvanized following the refusal of Italian opera singer Adelina Patti to perform in Costa Rica, which the prima donna attributed to poor facilities. Irate coffee barons lobbied for a tax on coffee exports to fund the construction of a new venue.
The exterior of the National Theater is stylish, yet somewhat lacking in inspiration. However, the building's interior is quite spectacular—the marble staircases, golden ceilings, and patterned wood floors alone are worth the visit.
Below Culture Plaza, in the basement of ICT, lies the Pre-Columbian Gold Museum (Museo de Oro Precolombino) that houses a collection of ancient gold pieces and trinkets. Also of interest is the attached Numismatic Museum (Museo Numismático), which displays pre-Columbian currencies from centuries past.
Between Avenida 2 and 4 on Calle Central is the bustling Central Park (Parque Central) where city dwellers rendezvous and socialize. To the north is the prominent Melico Salazar Theater—named after the famous Costa Rican tenor—and Soda Palace, a lively 24-hour restaurant that is frequented by local intellectuals. East of Parque Central is the unremarkable neoclassical Metropolitan Cathedral (Catedral Metropólitano), which was built in 1871.
Northeast of Central Park is Morazán Park (Parque Morazán), which encompasses four city blocks. The dome-shaped Temple of Music lies at the park's center, the intersection of Calle 7 and Avenida 3. An authentic Japanese garden and other statues can be found within the park.
Adjacent to the Morazán Park is Spanish Park (Parque España), a tranquil bastion of tall trees from which birds perch and sing throughout the day, reaching their apex at dusk. The Belgium made Metallic Building (Edificio Metálico) lies to the northwest—a striking attraction that required years of assembly and today houses a school.
North of Morazán is the Jade Museum (Museo de Jade), perhaps Costa Rica's most outstanding museum. Home to the largest collection of American jade in the world, this is one museum that visitors should not overlook. Other ceramic exhibits, stonework, and gold pieces complete the museum, which are arranged according to the specific cultural region from whence they came. Located on the eleventh floor of the impressive glass INS Building, the museum offers expansive views of the surrounding cityscape as well.
One of the inner-city's largest open areas, Democracy Plaza (Plaza de la Democracia) is located in downtown's east. A statue pays tribute to Jose Maria "Don Pepe" Figueres, the father of Costa Rica's modern democracy. The National Museum (Museo Nacional) lies to the east, within the bullet riddled Bellavista Fortress, an ex-army headquarters. The museum houses a number of historical exhibits, including jade, gold, and colonial art. Kitty-corner from Plaza de la Democracia is the Moorish style National Palace (Palacio Nacional), where the nation's legislative assemblies are held.
The pleasant National Park (Parque Nacional), located in east San José, is the city's largest inner-city park. At the park's center is the National Monument, which depicts Central American regulars driving out the filibuster William Walker. A statue of Juan Santamaría, a national hero, is located to the park's southwest. The National Library (Biblioteca Nacional), the country's central library, covers the northwest portion of the park. The National Center of Art and Culture (Centro Nacional de Artes y Cultura) hosts several art galleries, as well as a theater.
West San Jose
The avenues broaden west of downtown, revealing open spaces and even the occasional tree or garden, as the city's density gradually declines. The general bustle of the main-drag, Paseo Colón, makes its way past the General Cemetery, an elegant collection of headstones that deserve the attention of passers-by. Families gather on All Souls Day and All Saints Day to commemorate deceased love ones.
Up ahead is the tranquil Savannah (Sabana) Metropolitan Park, a wonderful place to escape the commotion of downtown. Woodlands and large open spaces comprise the enormous park that was once the city's main airport. Its wide open spaces serve the recreationally inclined—kite flyers and soccer players. Also within the park is the National Gymnasium, a venue for large pop concerts; the biggest mainstream names play shows here for mass audiences. National Stadium lies to the south, hosting everything from soccer games to presidential inaugurations. Nearby are courts for volleyball, tennis, basketball, as well as fields for soccer and baseball, and an Olympic-size swimming pool.
The Museum of Costa Rican Art is housed in the old airport traffic control tower, displaying a number of works from tico painters and sculptors. French artist Luis Ferrón constructed the Salon Dorado, whose metal relief mural depicts the history of Costa Rica.
Located in the southwest quadrant of the park is La Salle Natural Science Museum, featuring a number of exhibits related to zoology, archeology, as well as the nation's only paleontology exhibit. Exhibits are mainly artificial recreations of fauna, however, a live exhibit does host some intriguing wildlife.
We had a great day out, thank you! Apart from the traffic jam in and around San José in the evening, the trip was great!
The overall experience was amazing! Our driver went above and beyond to answer all our questions and provide an excellent experience. He even provided facts about the areas we were traveling through which made the driving a bit more interesting. The service from the ziplining and hanging brideges was also excellent. Our guides went beyond to help us feel safe and welcomed.
Our driver was very accommodating as we asked to make a couple of stops along the way. He suggested a good souvenir shop that was a good stop. It was a long drive but went very well. The driver was wonderful.
San Jose was never intended to be a opportunity to experience Costa Rica, but we took the opportunity to visit the city core, museums, shopping streets and restaurants. Enjoyed seeing the local people in their city and learning more about Costa Rica
San Jose was a lot more modern than I thought. Found a nice mall to walk in and see what was available locally.
Mienor was an excellent driver and helped us book a wonderful zip line and bridges tour in the cloud forest. I'd highly recommend him for anyone traveling in Costa Rica.
All the activities, transportation and accommodations arranged by Anywhere were excellent and went smoothly. Thanks for making my travel experience simple!
This is a big city and the traffic is crazy. However, Hotel Grano de Oro is a hidden oasis! Everyone was very nice and the local food was delicious.
San Jose was such a cool city. We had the best time there - yoga, the markets, walking around, etc. It was also the best jumping off point for all of these tours - so centrally located for quick access to mind blowing nature. Everyone was so friendly too!
We only had 1 day in San Jose and stayed across La Sabana Park at The Hilton Garden Inn La Sabana. The hotel was perfect and well appointed. In the park, we visited the National Stadium and the Costa Rican Art Museum, which was converted from the original airport. Great place to visit.
We needed to have these first two days here to ensure that we weren't delayed by airlines to miss the first tour. It was good to see San Jose, but a full day was plenty here. We knew that in advance having been advised by Alejandra.
This is a typical busy city, so if you like that, then you'll love San Jose.
This is a very big city. Everyone was very friendly, from locals that we asked directions of to the security guard outside the federal buildings.
At first, we felt very unsafe. But, once we had walked around and found out how close we were to the center of the city, we ventured out a lot. The walking streets were extremely interesting. We are not used to the many policeman everywhere but that did make us feel safer.
We stayed at Hotel Grano de Oro, and it was great.
Not for nature lovers itself but an interesting city to visit and glad I went. Hospitable
Limoncello, Hotel Don Carlos restaurant, Cafe Miel coffee shop
We took the Public Bus in to the city and didn't have any problems. We enjoyed the large pedestrian streets. The city had a good energy for people watching and grabbing a coffee.
Costa Rica is a beautiful country and the people were very friendly. Wish I could move here, however, there are no Biotechnology Research facilities in the country :(
Went to Cartago. Great experience. Beautiful botanical gardens.
The Tapas bar near the Studio Hotel in Santa Ana was a great find - good food and super live music
We stayed with a friends, but we took the bus and visited around the area. It was very nice.
Most tour operators wanted us to skip San Jose, we wanted to see the city. Glad we did. Walked around a little and then enjoyed the blossoming craft beer scene. Felt safe walking during the day. After dark we took a cab
Vibrant and enjoyable.
We stayed in the historic district for two nights. It was good because we could walk to destinations including the Central Market which we were interested in.
I honestly felt very safe in Costa Rica, there were lots of tourist but I got to visited with locals a lot. They are very friendly and hospitable. If you love nature, you should definitely consider Costa Rica, I had a blast!
We spoke with staff at the hotel and taxi drivers about areas that were safe to explore and areas that should be avoided. It was a satisfying and good experience. We found people to be helpful and friendly.
There are many places for nature lovers in close proximity to San Jose. It great point from which to start discovering Costa Rica. It did not seem touristy but rather like any other major city.
Very city-like, hard to find activities except for Museum but enjoyed an Art gallery.
Many parks and pedestrian walkways for shopping...the city was more enjoyable than we expected
Recommend the City Center hop on/off tour. My understanding is that this is new business venture. The owner/ guide was very informative and accomodating
I can't really recommend San Jose as we only slept over night there. But the whole of Costa Rica, friendly, clean, safe and beautiful.
Anytime your in a new country your a little unsure of your surrounds, but we did feel safe here. Once you walked around a little bit, you got the feel for the area. The amount of people was average. And everyone was very polite that we interacted with, and very helpful too, since of course our Spanish wasn't the best haha! We would go back in a heart beat! Not meant for nature lovers though.
Sarchi was interesting to see the painted Ox carts.
I was told this city is pretty unsafe. I did not feel that at all. We walked around after dark and felt very safe. I was also told that San Jose is boring and just a stopping point, I thought there was plenty to do, and see.
We were really here just to end our trip and to be closer to the airport but we did take in the National Theater while here and I would recommend that to anyone. They have an English tour for $7 twice a day which was well worth it.
Our time in San Jose was brief, however, we loved the Grano Hotel. What a gem. And dinner the last night of our trip was in their magnificent restaurant! It was an exquisite and romantic place to celebration our 30th wedding anniversary with our grown children. And such a fitting end to a wonderful trip. We were in San Jose the evening Costa Rica lost their final match for the World Cup. The city was empty so we cannot comment on the city. But we had a wonderful time.
With an afternoon spare, we kept to the centre, the parks (where we had fun with local skateboarders). Very mixed levels of income evident; noise and bustle of city; klaxons and horns with elections imminent; parrots; unique sound of pedestrian crossing points, chaotic driving. We enjoyed this counterbalance to our later programme.
We were only in San Jose for one day, and one night. Would recommend going to the Cathedral in San Jose, we were lucky to be able to go to mass there. The Mercado was a lot of fun, great shopping. We had dinner at the Grano de Oro Restaurant, beautiful hotel and amazing dinner.
We were only there for a couple of hours, then went to the hotel, when to bed for an early transport to the airport. We went to the art market and walked down the pedestrian walk. It was nice and fun being back in the big city after travelling all over for two weeks.
San Jose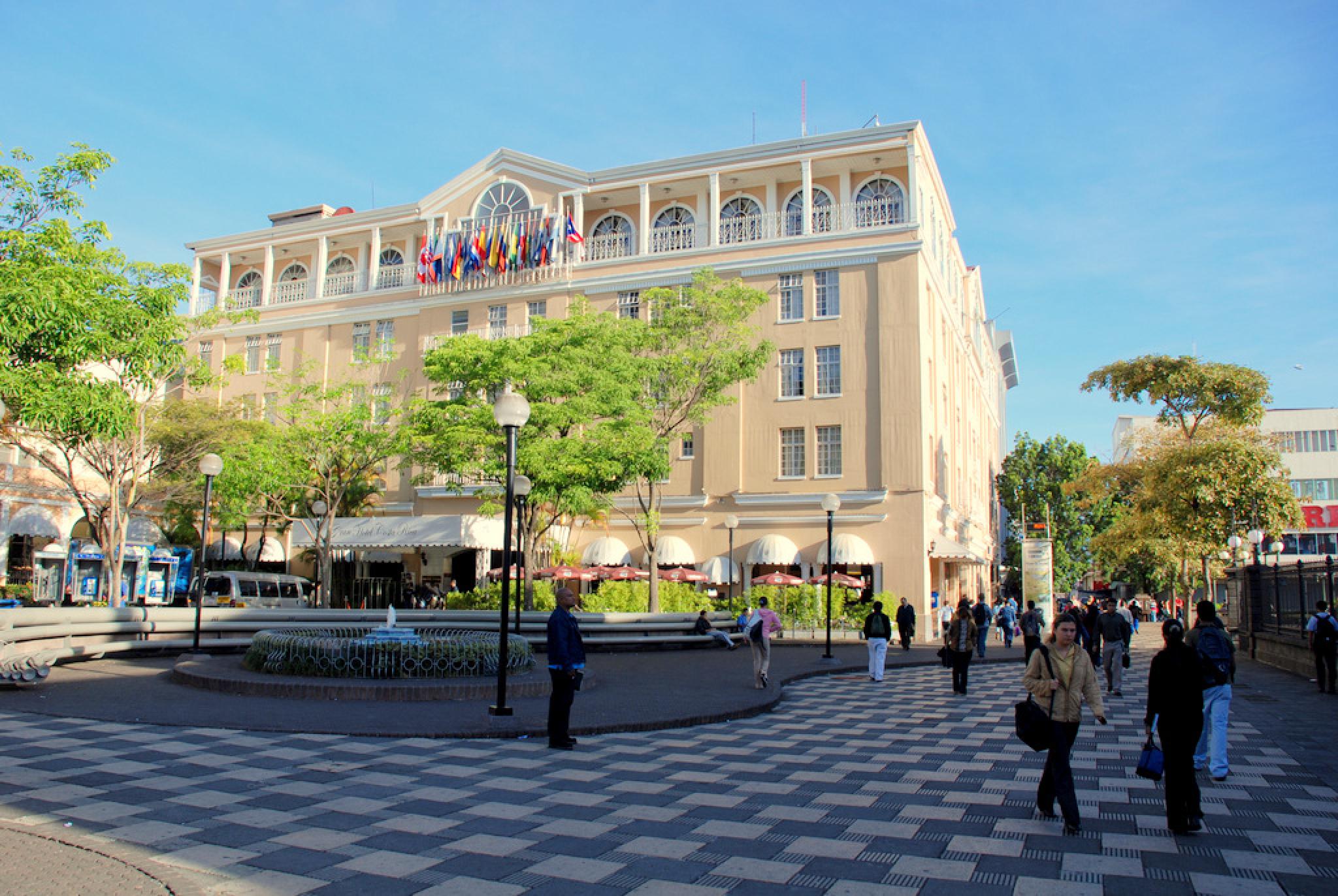 4509
Anywhere.com