It's time to let out a deep sigh as you feel the burden of everyday life lift off of your shoulders. Return to work reinvigorated; feel empowered to start that new career; spend quality time with your significant other as you unplug... It's all courtesy of Mystica Lodge & Retreat — a health and wellness resort located within the heart of the Arenal Lake and Volcano region. This vacation, heal your mind, body, and spirit.
Featured in:
Boutique, Yoga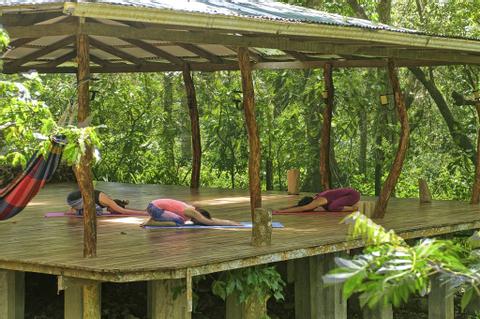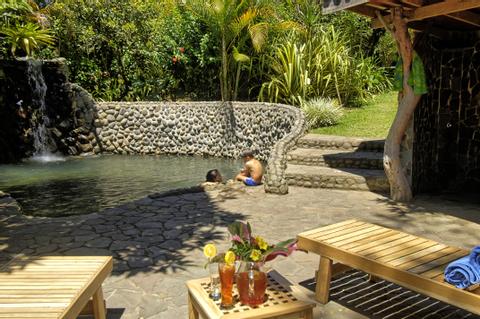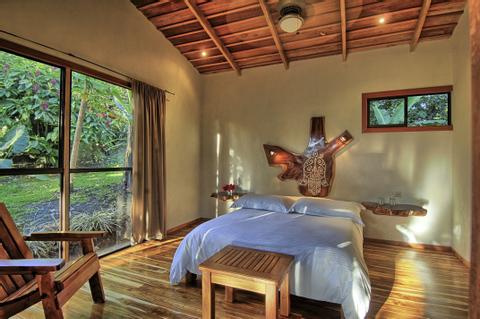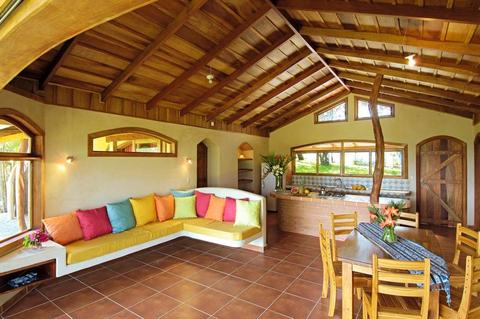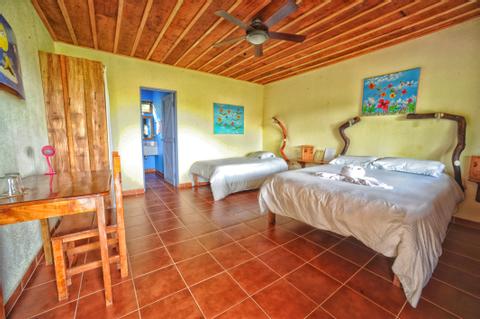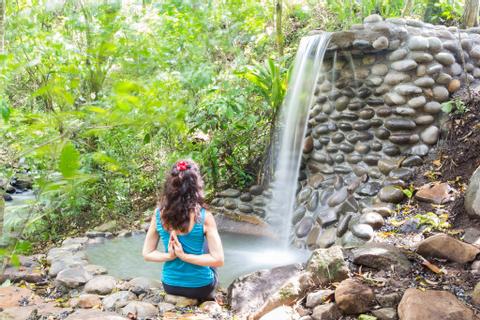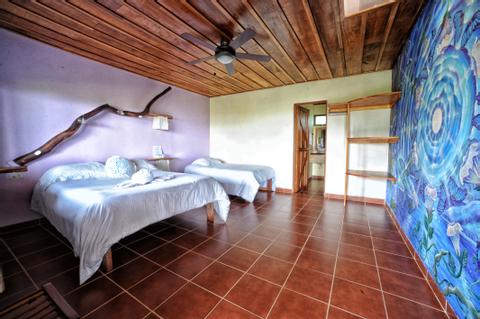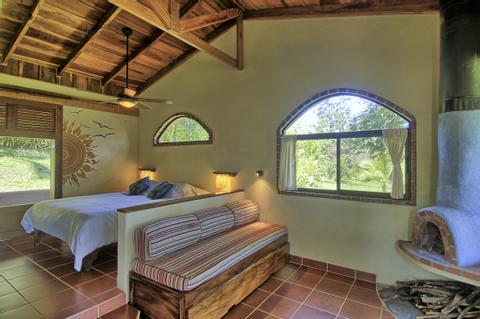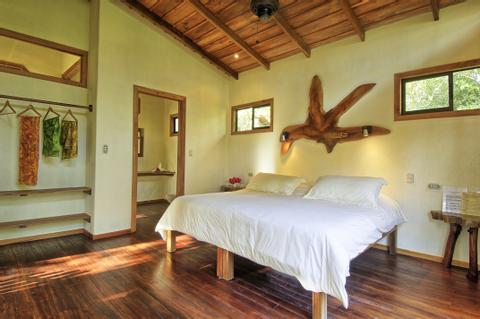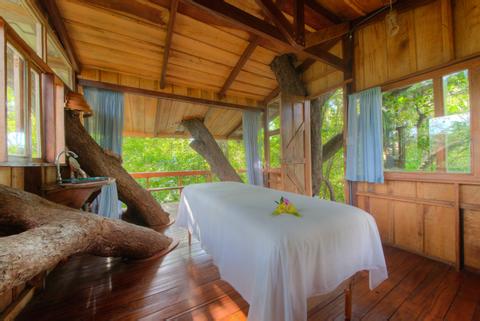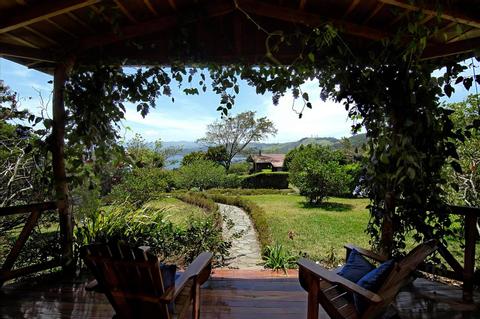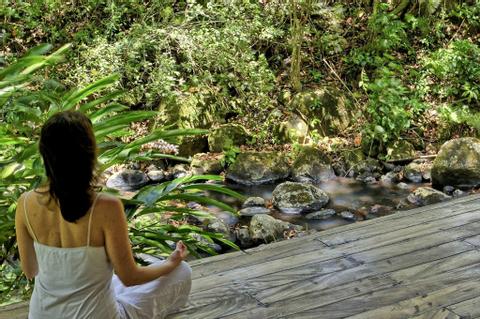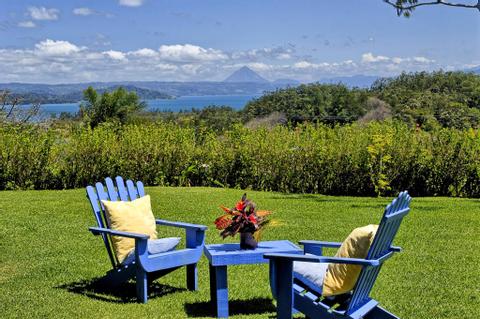 2:00 p.m. check in
11:00 a.m. check out
Wireless Internet
Attractions & Sites
28 km
37 km
7 km
89 km
Beautiful La Fortuna, Costa Rica is the home of the Arenal recreation region. The famous Arenal Volcano and Lake Arenal offer a variety of outdoor adventure and easy access to nature's bounty. Go kayaking, fishing, hiking, ziplining and more. See extraordinary animals roaming free, and discover what it means to live 'Pura Vida.' Whether it's your first time in Costa Rica or your fifth, there is always something new and extraordinary to discover in Arenal.
Sacrifice Your Electronics, Not Your Comfort
At Mystica Lodge & Retreat, you can make this getaway one of the most significant vacations of your life. Rediscover what it means to be alive when you surround yourself with nature, and a variety of health and wellness options.
Choose from the following accommodations:
Main Lodge - 6 roooms total, each with an ensuite bathroom. Enjoy tropical breezes augmented by air circulation from your ceiling fan. Rooms in the main lodge can be occupied by one (1) to four (4) persons.

Hamsa Jungle Cabin - Whether you need single occupancy or double occupancy, the Hamsa cabin let's you feel like you're living in the jungle — in the best sense. With glass walls, a covered terrace, and a semi-outdoor shower, you can enjoy luxury and the wilderness all at the same time.

Corazon Jungle Cabin - Treat yourself to a solo getaway or stay with your favorite person. The Corazon cabin offers you privacy in the midst of Costa Rica's jungle. Enjoy the outdoors from the comfort of your glass walls, covered terrace, and semi-outdoor shower.

Private Villa - You'll have all of the space and privacy you need when you stay in your private villa. Fully equipped with a kitchen, fireplace, private terrace with hammock, and both indoor and outdoor showers, you'll be enjoying your own private paradise. Single or double occupancy.

Ra Ma Da Sa House - Capable of hosting 6 people, you can bring the entire family or all of your friends to Ra Ma Da Sa House. This 2 bedroom, 2 bathroom home boasts a full kitchen, hot tub, fireplace, terraces with hammocks, an outdoor shower, and views of Arenal Volcano and Lake.
All accommodations include ceiling fans, screened windows, a safe, and private bathroom. Breakfast is included with every floorplan except for Ra Ma Da Sa House.
Tap Into An Unplugged Brand of Energy
As soothing as your accommodations are, you don't want to spend the entire trip in your room. So what will you do with the rest of your time? How about restoring your mind and body? Mystica Retreat has two (2) dedicated healing practitioners on staff and offers rotating retreats throughout the year.
Warm your body, and sweat out the stress and negative energy as you sit in the infrared sauna. Indulge in the refreshing dipping pool, made of sourced river stones. Take advantage of quiet moments of contemplation as you walk through the stone-lined paths of the Mystic Star Labyrinth.
Cater to your body when you book a massage therapy, reiki, or psychotherapy session. The Tree-Top Healing Room is particularly special, literally putting you in the thick of the forest. This room adds an indescribable positive energy to the sessions that take place there. Or, enjoy yoga courses from the serenity of 'La Esencia,' a riverside 'Yoga Sanctuary' with wooden platfroms nestled within trees.
Focus On The Moment, Not The GPS
This vacation, don't just take a break from daily life; rid yourself of the breakneck pace of the modern world, and focus on letting the natural beauty of Costa Rica soothe you. Unplug from your devices and instead, plug into the energy of nature, the universe, and your higher self — it's all waiting for you at Mystica Lodge & Retreat.
To allow yourself to be totally in the moment of your healing and growth, use Anywhere to book all of your tours, accommodations, and transportation. You focus on the experience, we'll focus on the logistics.
More Property Amenities
Hot Water
Volcano View
Lake View
Fan
Yoga Lessons
Accommodations
Jungle Room- Twin Bed
Sleeps 2
Jungle Room- King Bed
Sleeps 2