If your idea of a good time includes zip lining through the forest and exploring volcanoes, you probably aren't the type to call it an early night. Get to know the locals when they get off of work and just want to go out and have a good time. Costa Rican nightlife varies from small gatherings at the local karaoke bar to heart-pumping discos with dancers and DJs.
Costa Rican nightlife in San José will be fairly robust, because that's one of the country's major cities. Head to Santa Teresa - Mal Pais to grab a beer with surfers for a laid-back outing. Find yourself near Liberia Airport? Discuss business and travel over a cocktail with your fellow professionals.The destinations included on this list have a healthy, regular nightlife and a selection of bars and restaurants to explore throughout the evening.
#1:

 No Shortage of Nightlife in Tamarindo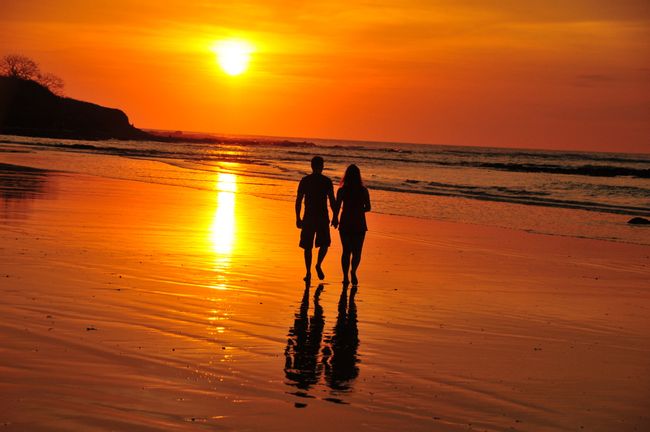 Tamarindo, Costa Rica →
Just because the sun has set on the beach doesn't mean the day is over. Tamarindo has the biggest nightlife scene in all of the [Guanacaste](/costa-rica/regions/guanacaste0 beaches and is an adventure all its own. Try your luck at the tables when you're sipping a cocktail in a casino. Dance the night away whilst listening to underground house music. Watch the skyline turn from dusk to darkness at a rooftop bar.
Was your day full of exciting activities, and now you need to slow it down a bit? Tamarindo's nightlife options still have you covered. Freshen up after a day of outdoor adventure to partake of remarkably fresh sushi and cocktails at a lounge. Enjoy a romantic dinner al fresco on a warm night, or simply make use of your hotel suite balcony whilst you enjoy a glass of wine before slipping into the jacuzzi — Tamarindo's nightlife can be whatever you want it to be.
#2:

 San Jose Nightlife — From Seedy to Hip, The Spectrum is Wide
San Jose , Costa Rica →
San José is the best place to party in Costa Rica. Many of the options here cater to an international crowd — choose from Irish pubs and dancing at European-style discos. Popular spots include dance clubs with live DJs and chilled-out hookah lounges.
Cocktails here are similar to what you'd find in North America, with a bit more tropical flair. Popular drinks include a lager called Imperial.
#3:

 Get Sucked into Santa Teresa's Eco Chic & International Vibe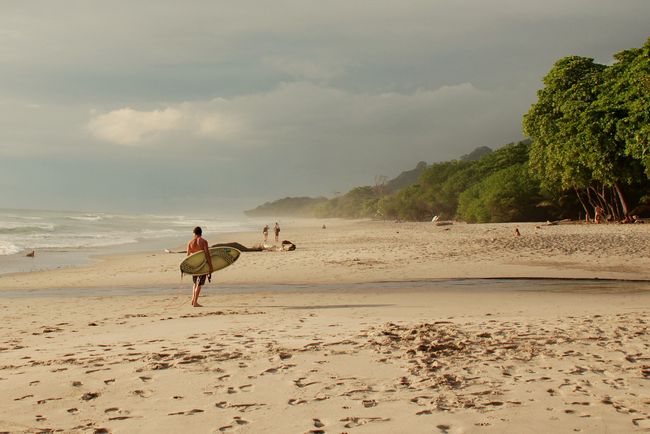 Santa Teresa, Costa Rica →
Want a hip nightlife scene but don't want to fall asleep to the sounds of raucous parties every night? Santa Teresa offers just the right amount of chill and after sunset activity, but not so much that you can't get away from it. In fact there is really only one big party every night. The location changes depending on the day of the week so ask around once you arrive. Santa Teresa also has some of the countries premier yoga hotels to choose from so visitors really can find it all in the Santa Teresa - Mal Pais area.
You could start your night at one of dozens of amazing restaurants for a delicious meal and craft cocktails. Santa Teresa has attracted chef's from around the world so you literally have almost every type of cuisine to choose from. However, given that you're on the Nicoya Peninsula, seafood is a specialty at most restaurants.
Not ready to call it a night? Grab a cocktail or micro brew at one of dozens of lounges or bars — each with its own vibe. Some are quiet while others are the place to be if you want to sip a cold cerveza and jam to reggae. Usually by about 10:30 pm the big party has started to heat up so get ready for salsa dancing, techno on the beach or cheap drinks at bar hoping to draw in a big crowd.
If you'd like to retire early, you can head back to your accommodations and rest up for a sunrise yoga class or a long jog on the beach before the sun heats up. If you came to surf then a good night sleep and riding those early morning waves might be your best bet. For many people the late night party scene is secondary to experiencing the natural beauty of the region and the health and wellness culture of the area.