Playa Jaco is the closest beach to San Jose, the Central Valley and is one of the most visited coastal destinations in Costa Rica. The beach is a 2.5 mile (4 km) strip which offers world renowned surfing and more.
Much like Costa Rica's metropolitan areas, Jaco's offers most services, such as a post office, health center and branches of major banks. Furthermore, there are an abundance of surf shops, hotels and restaurants affordable for the budget travelers as well as those wishing to live a bit more luxuriously. Activities include surfing, swimming, deep sea fishing, ATV tours, bicycle rentals, horseback excursions, crocodile safari, national parks and reserves, boat and kayak excursions, white-water rafting, canopy tours and popular night life. With all there is to offer it is no wonder Jaco is as popular as ever.
In the surrounding areas, Playa Herradura, just 4.4 miles (7 km) north, provides a more tranquil environment than Playa de Jaco. Also, just south of Jaco is Playa Hermosa, a quieter 6 mile (10 km) section of black sand beach loved by beach goers and surfers alike. This is where the International Quicksilver Championships are held every year in August. The Playa Hermosa Wildlife Refuge (Refugio Nacional de Vida Silvestre Playa Hermosa) is the beach of choice for the Olive Ridley sea turtles that come ashore to nest every year. If a hotel with an undisturbed location is what you desire, these surrounding beach towns are recommended.
The Carara Biological Reserve (Reserva Biologica Carara) is located just 9.3 miles (15 km) north of Jaco. With several miles of trails open to visitors (some only with a tour group), it is a great place to view much of Costa Rica's wildlife. Early morning or around sunset is often the best time to see the wealth of scarlet macaws that rest among the mangroves. It is also possible to see caiman, white-faced monkeys, peccaries, coatimundis and a wide variety of birds. The park opens at 7 am and closes at 5 pm. The entrance fee is $6.
The Tarcoles River (RioTarcoles), which borders the park and flows into the Pacific Ocean, is an amazing place to witness the American crocodile close up. Boat tours are available to see the crocodiles, many of which grow to be several meters in length! At the mouth of the Tarcoles, the Guacalillo mangrove plays a vital role for the survival of many species of wildlife that may be viewed here.
Manuel Antonio National Park is within driving distance of Jaco as it sits majestically, 43 miles (69 km) to the south. Punta Leona Wildlife Refuge (Refugio de Punta Leona) is another place visitors have a good chance of seeing wildlife, which is located along the drive north from Jaco towards the town of Tarcoles.
There are, however, concerns in Jaco about drugs, crime and prostitution. Being aware of your surroundings and using common sense should help you to avoid any undesirable situations.
Jacob has great nightlife, shopping and restaurants.
Too touristy for me but it was just as Jessica described it. Good for New Years Eve. One night is plenty
We stayed at Hotel Club Del Mar and it is amazing. Staff are fantastic, food great, right on the beach, took surf lessons, great sandy beach on the s end for good swimming, body surfing even for kids. Great beach walks, hikes just across the road. Easy to get to other places. Went ATV's, etc. Highly recommend and close to so many things including the airport.
Lemon Zest Restaurant was really good as was the Italian La Patio
We ate in some excellent restaurants - especially Graffiti, The Green Room and Taco Bar. We were disappointed to not be able to get into Lemon Zest without a reservation day in advance. Beach in Jaco is awesome.
Our favorite parts of Jaco were doing the Crocodile Man Tour (which was awesome!) and we also went to a nearby resort that built an amphitheater on a cliff where you can get food and drinks and watch the sunset. We stumbled on the place online while we were looking for a place to eat and what a pleasant surprise it was. We also made a visit to nearby Hermosa Beach which has black sand a massive waves and a very laid back vibe.
There are a lot of great restaurants in Jaco, the one that has the most interesting menu is definitely The Green Room. It has a beautiful decor, cool drink menu, and great food and ambiance. Tacobar is another "must go" to place. Delicious food, and the best sangria ! Namaste cafe is great for lunch, they have decently priced smoothies and meals. The staff is super friendly. Poseidon offers great food and service. Across the street from Poseidon you can get fresh coconut water during the day for just a few colones, they also offer different kinds of smoothies at a good price. I went by Tsunami sushi on a friday night, as they have their 50% off sushi rolls special. Be sure to make reservations as a lot of people show up. If you're looking for something different (in terms of stores) on the Main street stop by Fruity Monkey Poop. They have a lot of really beautiful stuff. El Paseos de los Surfistas has some of the nicest bracelets (I believe that's what it was called, down the street from the Poseidon). Finally, if you're looking to have a little fun I highly suggest you sign up for surfing lessons with Surfer Factory. They have some of the best instructors, you'll definitely be able to get up on your board and catch a few waves if it's your first time. Avoid Los Amigos restaurant, horrible service and food wasn't good at all!
Highly recommend I Love Sushi. Great dinner, great hospitality.
Tiki bar on the South end of the beach is a great place to relax with a drink and enjoy a view of the beach. the staff is friendly and the meals are fairly cheap.
Jaco was great! Had so much fun horseback riding!
I am not sure if this was a touristy area. We had the beach to ourselves during the week. It only became semi crowded on the weekend. Not enough people to make it uncomfortable. Really nice locals. I always felt safe but I also stayed a little more alert when walking into the town. Just because it was not as remote.
Jaco is a great little town to just relax and walk around. Didn't really go to any bars or restaurants, because we stayed at an all inclusive hotel that had everything. Shopping is great in Jaco.
We were told we might not like Jaco since it had "big city" problems. We felt totally safe in Jaco and walked all over the place. There are recycling stations throughout the city to help keep it clean. People were friendly. We ate at Lemon Zest which was really great as was the Italian restaurant below it. The beach was lovely but with strong waves. We did enjoy watching the folks surfing.
Pizza Pata- must eat, and the Beach is beautiful with the best waves this Floridian has ever seen.
Jaco was a lot of fun with lively streets, bars, and restaurants. The beach all volcanic sand and very clean. The water was very clear too. There are lots of waves but we didn't have any trouble swimming. It was actually a lot of fun boogey-boarding and surfing for the entire family.
Jaco was definitely more crowded than Arenal. Also at night the streets were very busy and it was not quite as nice and safe feeling, though not bad overall. The beach was very nice, but otherwise seems that Jaco itself is not as great a place for nature lovers, but it is close to many natural areas which still makes it a good place to stay. The beach was nicer further away from town, the beach section near our hotel wasn't too crowded, which was nice. We went to Taco Bar which was a little expensive for tacos, but a very cool and fun restaurant.
This area had the most tourists out of any destination I visited. However, I did not feel that there were too many tourists at any point. As long as one is smart and does not get intoxicated alone then it is easy to stay away from the drugs and prostitution
We went here because my husband was doing a bike race which started here. The beaches were nicer in Manual. We did meet Juan who was a tour guide. We had everything already planned , but he did help my husband out, finding a bike part he needed. he offered his help, called a friend and drove him to the guys place. He would have never found this place on his own and he was lucky enough to get the part
Jaco is a nice town with many good restaurants. Our favorite was Lemon Zest. It was very close to our hotel. Just a 15 minutes walk or 5 minute ride into town. Taxi's are reasonably priced.
Jaco seems to be known for it being unsafe, however, having been there twice, we have never experienced this. For first time visitors, it can be alarming to see security guards everywhere but it is for the tourist protection and it works. We felt comfortable walking the main street in the evening, however they recommend that you do not walk along the beach. The locals were friendly and we never felt uncomfortable with the few people who were selling things. Our condo site through JacoVip was right next to a casino and we had no problems with unruly people or noise. Outside the city is the true reason to come to Costa Rica...the wonderful country! Do not miss Manuel Antonio and it's amazing beauty (forest and ocean) and wildlife adventures (loved the various monkeys & sloths!).
The streets were too dark at night to do any walking, but were ok during the day.
Stayed at the Girasol and loved it. Great location and would highly recommend it. Restaurants and grocery shopping was great. Enjoyed our visit to Carara.
Jaco gets a bad rap because of seedy elements. But we didnt ever feel threatened or uncomfortable the whole time we were there. A really fun town though!!!
It was a nice place to visit and see. Good restaurants and entertainment, as advertised. Approached frequently to buy drugs, etc. Didn't care so much for that part of the experience. I liked the surrounding beaches. It fit better with what we were looking for.
Avoid The Wok restaurant. Recommend Cafe del Mar for local food, Amapola for Italian food and Jalapeno Joe's for Mexican food.
The reason for our stay here was for bird watching at Carara. It was easy for our guide to meet us at our hotel and it was a quick trip to the park. It was a wonderful experience.
We will definitely go back to Jaco - the area is beautiful and so much to do. Beaches not a nice as most of the other places we had been to - lots of garbage.
It was a paradise, toucans, lizards, iguanas, hot sun, sandy, clean beach, happy hour and clean beds with fresh hibiscus daily.
Jaco was a fun town. I was staying at a surf school and really enjoyed my experience. If I wasn't doing the surf school, I think Jaco wouldn't be my first choice because it is very Americanized and very touristy.
Jaco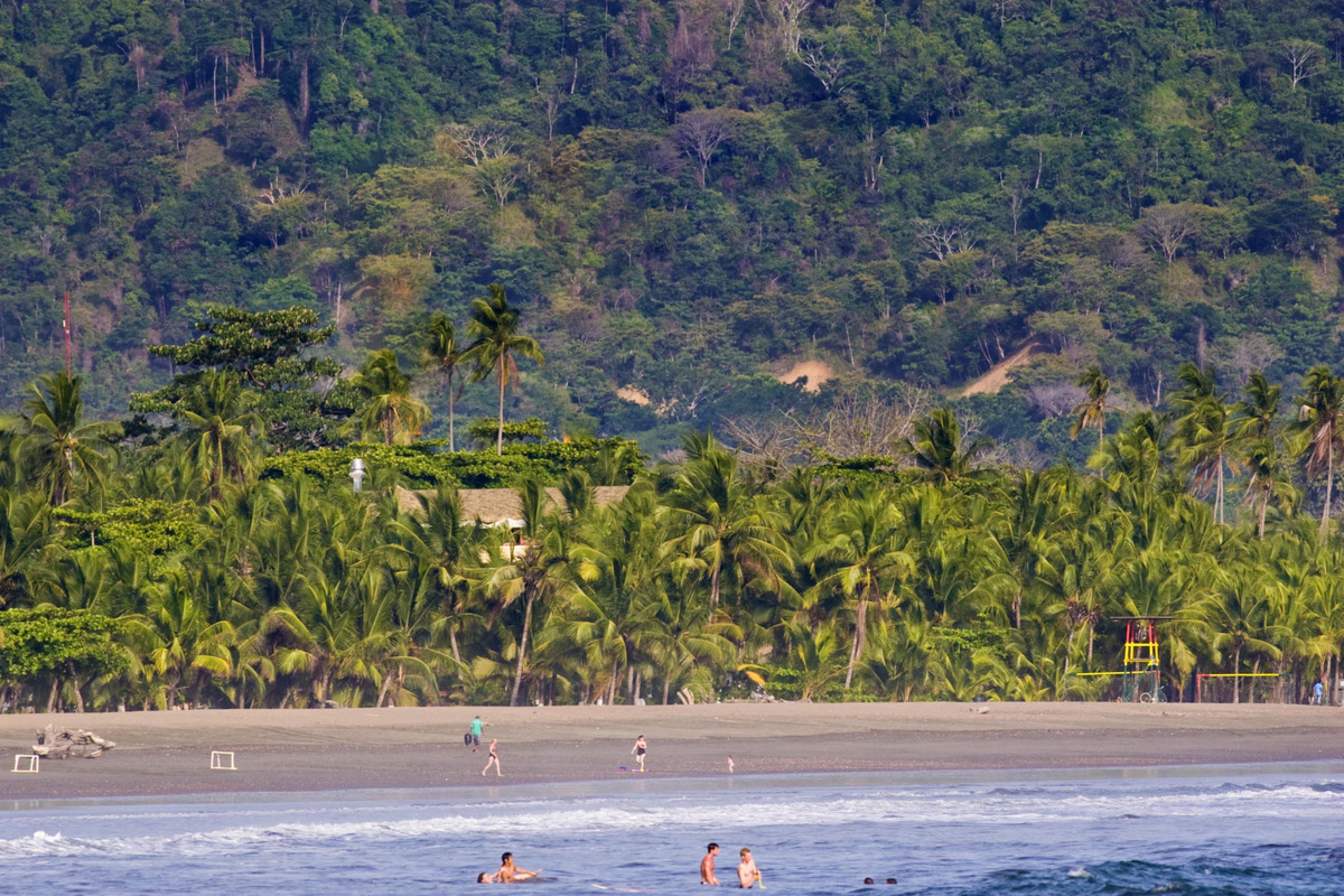 1021
Anywhere.com