You may be surprised to learn that for being such a prominent adventure vacation destination, Costa Rica cities (of the metropolitan variety) are relatively small and few. However, that just provides you with even more incentive to get outdoors instead of spending your entire holiday in a place that's just like home. Cities in Costa Rica are not without their charm, as you'll discover when you're admiring the architecture, surrounding greenery, and friendly locals found in locales including San José, Alajuela, Heredia, Escazu, Puntarenas, and Limon.
If you're concerned about missing opportunities to shop, dine out, and enjoy nightlife then this is the list for you. Here, Anywhere provides you with an assortment of bustling towns, vibrant nightlife, and plenty of restaurant options. In a sense, these destinations are no longer small villages — they'll offer you the chance to get out and about between your more adventurous excursions.
#1:

 The Only "Real City" in Costa Rica is San Jose
San Jose , Costa Rica →
San José is Costa Rica's capital city and is home to some of the country's most important monuments. Costa Rica is best known for its scenery and natural attractions, but take some time to get to know its contemporary urban culture.
Take part in day-to-day pastimes at a busy outdoor market, and a casual game of soccer at the Metropolitan Park on the west side of town. More unusual sights include the Museum of Costa Rican Art, which is in a building that used to serve as an air traffic control tower. In the heart of downtown, you'll see architectural points of interest like the National Museum and the National Theater.
Take a city tour for an introduction to the history and culture of Costa Rica. Sip some local brews at the trendy microbreweries in the Escalante neighborhood. Culinary tours will also take you to outdoor markets and cafes where you can try locally grown coffee.
Take a bus tour to see lots of the city's highlights in one swoop. These types of tours come with on-board drinks and entertainment.
Travelers typically begin and end their trips in San José. You might want to splash out on elegant downtown accommodations, or opt for convenience in a time-saving airport hotel.
#2:

 Jaco — The Beach Town with Easy Access to Outdoor Adventure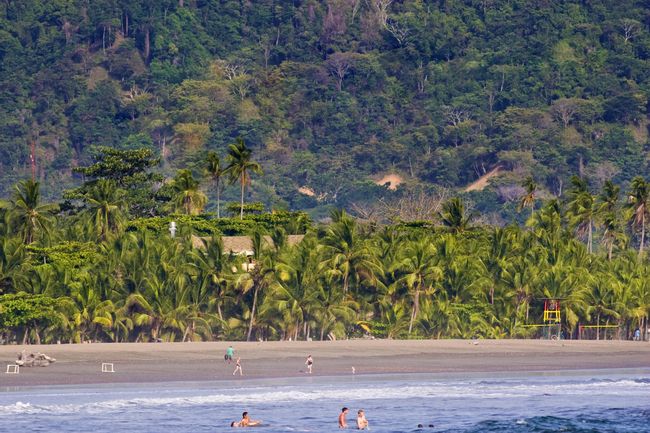 Jaco, Costa Rica →
Traveler's dilemma: You want to explore Costa Rica's outdoor adventures you've heard so much about, but you were also hoping to head to the beach, and you really don't like to be away from the convenience cities offer. What's a traveler to do? Head to Jaco, Costa Rica!
This beach town has it all! First of all you'll be able to enjoy 2.5 mile (4 km) of sandy beach, and the water's are friendly too — they're great for snorkeling, kayaking, sport fishing, and surfing! Talk about multi-tasking. Jaco is the closest beach outside of the capital city of San José, it's full of amenities. Get everything you need when you explore the city center on foot — restaurants, cafés, shops. You can even head to the local markets to purchase fresh produce if you chose accommodations with a private kitchen.
When you want to remind yourself that you're on vacation, it's easy to enjoy a day trip adventure that you wouldn't find back home. Go on a floating safari tour, explore waterfalls, or take a horseback ride through the jungle. When you're done, you can head back to your luxury condo or beachside hotel to prep for an evening of exploring the city's nightlife, which is legendary!